Be sure you have a new ink cartridge before you begin. Once you start the ink cartridge replacement procedure, you must complete all the steps in one session.
1. Make sure the printer is turned on and not printing, then open the printer cover.
2. Do one of the following:
If the red error light is on (cartridge is empty), press the maintenance button.
If the red error light is flashing (cartridge is low), press the maintenance button.
You see Ink Cartridge Replacement automatically highlighted in the Advanced Settings menu. Press the Select button.
Note: If the error light is off, you can still replace an ink cartridge.
Enter the Advanced Settings menu, then select Ink Cartridge Replacement. Continue with the steps below.
3. You see a message on the display telling you that ink cartridge replacement will begin.
Press Custom button 1 to continue. The print head moves to the center.
4. The black cartridge is on the left and the color cartridge is on the right. Open the ink cartridge cover, then lift the cartridge out of the printer and dispose of it carefully.
Warning: Keep ink cartridges out of the reach of children and do not drink the ink. If ink gets on your hands, wash them thoroughly with soap and water. If ink gets in your eyes, flush them thoroughly with water.
5. Unwrap the new ink cartridge. Then remove only the yellow tape seal on top.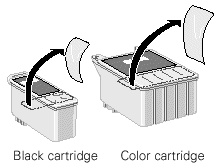 Caution: You must remove the yellow tape from the top of the cartridge or you will permanently damage it.
6. Lower the cartridge into the holder, resting it on top of the hooks.
Caution: Don't place the cartridge under the hooks, or they may break when you close the cover.
7. Close the ink cartridge cover (press down firmly until it snaps shut).
8. If you need to replace the other ink cartridge, repeat steps 4 through 7 before continuing with step 9.
9. Press Custom button 1 and close the printer cover. The printer begins charging the ink delivery system.
10. When you see a message that charging is complete (after about a minute), press Custom button 1 to finish.