The initial ink cartridge installation takes approximately two minutes.
1.
Turn the printer on. The ink cartridge holders will move to the installation position.
2.
Carefully unwrap the ink cartridges then remove
ONLY
the yellow tape seal from the top of the ink cartridges. If you accidentally remove anything but the yellow seal you cannot use the cartridge or it will damage the printer.
Caution: Don't touch the green circuit board on the back of the cartridge; you may inhibit normal operation and printing.
3.
Lower the new cartridge down into the holder making sure the tabs rest on the hooks in back.
4.
After the ink cartridges have been inserted into their holders, push down the ink cartridge clamps until they lock in place.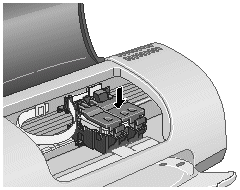 5.
Press the Ink Replacement button, located next to the power button, to begin charging the ink delivery system and close the printer cover.
6.
Charging takes about 1.5 minutes and is complete when the power light stops flashing.
Caution: Don't turn off the printer until the power light stops flashing.